映画「ロード・オブ・ザ・リング」のそもそもの発端を描く映画3部作の第1弾、「ホビット 思いがけない冒険」が12月14日から公開されるのに併せて、ピーター・ジャクソン監督や主役マーティン・フリーマンら出演者たちが来日し、12月1日に都内で記者会見を開いた。以下は会見内容の英語概要(翻訳はこちら、会見速報記事はこちら)。

This is the press conference held in Tokyo on 1 December 2012 with director Peter Jackson, actors Martin Freeman, Richard Armitage, Andy Serkis, Elijah Wood for the Japan premier of the film, "The Hobbit: An Unexpected Journey". Transcribed by goo news.
---
Peter Jackson
: Hi everybody, thank you very much for coming. I'm really glad you just had the chance to see the movie. I think you saw it at 48 frames per second which I think is a really
great
way to see it. And thank you for the fantastic welcome here in Japan, thank you. We're very happy to answer any questions you have.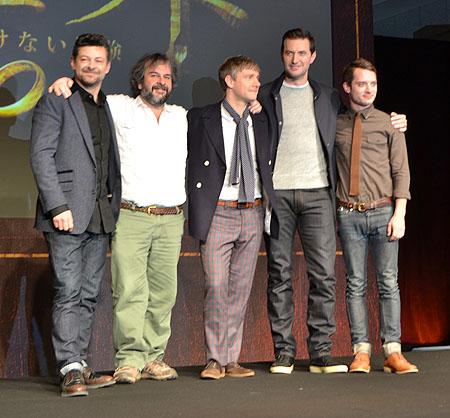 From "The Hobbit" press conference in Tokyo, 1 December 2012. (goo news)

Martin Freeman: Hello, yes, it's lovely to be here. I love Tokyo, I love Japan generally. We hope you liked it. We're looking forward very much to sharing this with the Japanese public, this film that we worked on with so much love, care and attention, and finally people will be able to see it tonight, which will be very exciting.

Andy Serkis: Ohayo-gozaimasu. Or as Gollum would say (in Gollum's voice), "Ohayo-gozaimasu". It's a real thrill and honour to be back in Japan. We love coming here, we've had great times here with The Lord of the Rings trilogy and with King Kong, and it's just fantastic to be able to come and finally share The Hobbit with you. Thank you very, very much for having us.

Richard Armitage: I was here in Tokyo back in 2000 and I'm so proud to come back in 2012 with these amazing people and this film which I think will really appeal to a Japanese audience; it has the big themes, honour, loyalty. And it's just something huge for me, but I think it will be very well received here and I'm really proud to bring it to you. Arigato.

Elijah Wood: Konnichiwa. Yeah, we had pretty incredible experiences bringing The Lord of the Rings films here. It is always extremely special to come to Japan. I love Tokyo, I love Japan, and we're all very excited to bring this earlier part of the journey to you, it's really wonderful.

Q: It's a marvelous film but also a very violent film with lots of killing, especially of orcs. Yet ultimately it is the one act of pity and mercy by Bilbo, sparing an enemy's life, that saves Middle Earth. So, Mr. Jackson and Mr. Freeman, your thoughts on that story structure which Tolkien created?

Jackson: It's interesting talking about pity and mercy because there is a sequence in The Hobbit which actually -- because the Hobbit takes place 60 years before The Lord of the Rings, which we've already seen the result of what happens in The Lord of the Rings films, where in The Hobbit, Bilbo has an opportunity to -- he has Gollum in front of him, he is invisible, he has a sword and he could at that stage decide to kill this creature who has tried to kill him. And he doesn't. You know, there's a sense of decency within that character that prevents him from doing that and that ultimately pays off inside the volcano in Mount Doom. There's a moment in The Lord of the Rings that the fact that Gollum was saved and didn't die that enables the ring to be destroyed. So I found that very interesting to actually, after 12 years, to show the events that established that.

Freeman: Should I say something? Yes, that pivotal scene I guess you're alluding to between Bilbo and Gollum when Bilbo chooses not to take Gollum's life, and in Bilbo's ears are ringing Gandalf's words, "True courage is knowing not when to take a life, but when to spare it." I think that says something about Tolkien's humanity. I think it's true, I hope it's true. Just as a general adage, I hope it's true. And also when you've been on the receiving end of Ian McKellen saying it to you, that kind of helps; it helps the audience but also helped me carry that through. Yeah, I think it's a lovely moment for Bilbo, it tells you a lot about Bilbo, where he's going; this responsibility doesn't sit lightly with him, he takes it very seriously, and he's not a person who's quick to violence, quick to anger or aggression. It wouldn't suit him to kill a defenseless being anyway, even in fear, even if it's a life-or-death situation, it wouldn't sit well with him. So, yeah, it's a good indicator of Bilbo, Tolkien and life, hopefully.

Q: The aim of the film is?

Jackson: The aim of making the movie, is really for me, with any movie I make, is escapism, really. I love the mystery and the romance of going to the cinema, I always have since I was a child. There are many different types of films to suit many people, but the type of film I like to watch and therefore the type of film I really like to make are ones which you are transported into an adventure, where there are characters with emotional depth. But to answer your question, it's an escapist experience. Which is why I think I love fantastical films, and obviously Tolkien's books are the ultimate example of a story that transports you to a world that's familiar, it has kept characters that are familiar, it has themes that are familiar, yet has the exotic, fantastical elements of the creatures: goblins, trolls and things. So for me, it's an extension of a fairy tale, it's what I love about films. Fairy tales for everybody, really.

Q: How did it feel to be in this film?

Serkis: It's been an incredible experience coming back to New Zealand and shooting The Hobbit. And a wonderful time to get together with very old friends, meet crews that were present on those films in The Lord of the Rings days, you come back and everyone's slightly older and has got more children. And of course, welcoming the new cast which were phenomenally dedicated, really hard-working, great fun to be around. For me, I had a wonderful time, because not only was I reprising the role of Gollum, but Peter asked me to direct Second Unit, and I had the opportunity to experience the great work that all of these actors did, and to learn a lot from Peter as well. He was incredibly generous with enabling me to enter an area I'm interested in. So, for a year and a half, we became a brand new family, a brand new adventure, which was thrilling; it was immensely challenging, logistically, physically, mentally challenging, but when you've got great people around you, an amazingly talented team who are all working for 150%, it's a joy.

Wood: As what Andy just said, it was so extraordinary, the new experience of making The Hobbit very much echoed the experience of making The Lord of the Rings in terms of the incredible effort, the passion amongst the actors and film-makers and crew. It was beautiful to see, to come back to that. And for me, it was also so special to see that the atmosphere on set was very much the same. In some ways the scale of The Hobbit it seemed much larger in a way, but the intimacy and connection amongst the people working was very much the same. It was a gift. It was an absolute gift to come back. I had certainly felt that that chapter in my life had been closed, certainly not my connection to those people and to New Zealand, but to be asked to come back and briefly reprise the role of Frodo was a gift, mainly to go back to New Zealand and see Ian McKellen as Gandalf again, and to work with Ian Holm again. And to see old family and friends, and it was a joy for me to meet the new cast who were deeply entrenched in a journey very similar to what we'd gone through, a joy to spend time with them and sort of vicariously live through this new journey that they were all on; it was a beautiful thing to witness.

Armitage: Having been a huge fan of The Lord of the Rings books and absorbing myself in the trilogy, one thing you realise is that Peter's work is very, very unlikely to ever be remade in the future. And so when you're given the responsibility of taking on a role like Thorin Oakenshield, I'm sure Martin felt the same, you understand that I would probably be the only person that ever plays this. And so to own that responsibility and coming to New Zealand with all of those fears and excitement to do that will probably be the most memorable thing of the whole event. And it was probably the best year of my life and best 18 months I ever spent working on any piece of work regardless of the end product. The experience of sharing that with Peter and his team in New Zealand will be there in my heart forever.

Freeman: It's all been said by the others. I think it's no coincidence that all our answers seem to be encompassing things about how it was to be with the group and the word "family" keeps coming up as well. Which was something we were all aware of, that's how The Lord of the Rings cast and crew spoke about their experience and that's how The Hobbit cast and crew have come to speak about ours.
It's a very tight knit group. It's in a relatively small country, and Stonestreet Studio feels like -- I mean I keep saying this and it's not meant to be in anyway a backhanded compliment --, it feels like the biggest student film ever made. It's still something of a cottage industry and I mean that in the best possible way. It's the biggest kind of film being made on the planet earth, but it still feels like we're making jam or something. It has sort of an ad hoc feeling, it has a sort of informal feeling which definitely suits me and I think it makes us do good work, hopefully. It's not scary, it's not frightening, you're encouraged to have a good time, which after all is the whole reason you get into acting in the first place, or anything to do with the art of entertainment. You're not doing it because you have to, you're doing it because, please God, it's going to be fun. And so 18 months of this film, of these films, I can honestly report, were fun. Almost regardless of how it's received, of course we'd rather people loved it, we'd rather people liked it, it was worthwhile for us whether people do or don't like it. We had an absolute ball doing it. As Andy said it was challenging, all films are hard work, with no exception it's always hard work, but there was a goal in sight which very much made it worthwhile. I'm going to stop just in case the answer is just...two hours long.