2001年から2003年にかけて世界的大ヒットとなった映画『ロード・オブ・ザ・リング』。その壮大な物語の発端を描く映画3部作の第1弾、『ホビット 思いがけない冒険』が12月14日から公開される。ジャパンプレミアのために来日した出演者のマーティン・フリーマンとリチャード・アーミティッジを、 gooニュースなど複数メディアがインタビューした。フリーマンが演じるのは、思わぬ冒険に連れ出され、ひょんなことから不思議な指輪を手にする、平和を愛するホビット、ビルボ・バギンズ。アーミティッジは、凶悪なドラゴンに故郷を奪われた流浪の民を率いて故郷奪還を目指す、ドワーフ族の王トーリンを演じた。物語のビルボのようにもし危険な冒険に誘われたらどうする?――などと尋ねてみた。こちらは2人が英語で答えてくれたそのままを掲載、日本語訳はこちらです。 (gooニュース 加藤祐子)
On 1 December 2012, Martin Freeman and Richard Armitage was in Tokyo to promote their new film, "The Hobbit: An Unexpected Journey", and answer questions from the Japanese media. In one of those interview sessions, multiple news organisations, including goo news, gathered to ask them about their roles and what they would do if they were suddenly asked to join a dangerous adventure....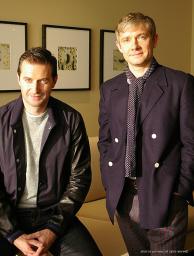 Martin Freeman (right) and Richard Armitage in Tokyo, 1 December 2012. Photo by Shinobu Yoshida for goo news.
Q: How did you approach your roles?
Martin Freeman: What I feel about acting most of the time is that to a certain extent you have to get out of the way. In some ways the story has to be king or queen. Of course, we all want to shine and we want to add something to it, but if it's not in the name of the story, they you're wasting your time or you're trying to derail something. It's all there in Tolkien. I didn't make Bilbo, Peter didn't make Bilbo, and hopefully we've done something good, but it's there in Tolkien already. So everything I've tried to play, the root of it is in Tolkien. And on top of that, of course, Tolkien hadn't written a screenplay, he wrote a book, a novel, or whatever. So what I find interesting is the difference between what he's writing -- and this is the same with any book -- the difference between what the writer has written and how you actually play it. Because things aren't always easily playable, you know, in 2012. A piece of writing from 1937 is a different demand, I suppose. I just knew I wanted Bilbo to be real, believable, not a cartoon, and for the stakes to be really high, as in what matters to him really matters to the audience, or we may as well pack up and go home.
Richard Armitage: I always get very excited when the piece of acting I'm about to approach has been adapted from literature because you've always got that source of reference to go back to if ever you get lost, you can always go back to the original author. Obviously I was focusing very much on Thorin; he really depicts the character with clarity so that's a great start. Added to that the realisation of Middle Earth that Peter had found in The Lord of the Rings trilogy, which had somehow tapped into everybody's vision for Middle Earth; I think it connected with so many people. I knew that I was in good hands, and so the only fear that I had was that Thorin's boots were big boots to fill. He was a big character, bigger than I was emotionally and physically -- in his physical capability obviously, because he's small -- but emotionally. And his legend was bigger than I was. So that was something that I was afraid of, but something I worked towards with enthusiasm.
Q: Bilbo is both a Baggins and a Took; a Baggins loves peace, good food and a warm bed, a Took loves adventure. Are you more of a Baggins or a Took? And if you were in Bilbo's shoes, would you suddenly go on a dangerous adventure?
Freeman: Me as Martin? (Reporter: Yes.) Well probably, if you put a gun to my head I'll probably say I'm more of a Baggins. I mean I have Tookish qualities but I prefer, yeah, I'm probably more Baggins than Took. And if someone said to me would you come... I mean, I don't know, if I said to somebody can you guarantee I'll come back and the person said no... I mean, there's never a shortage of wars on planet earth, so if someone said to me would you like to go to war, I'd say no thanks, no. I don't ever want to be in a life-or-death situation where I might have to kill someone or they might kill me. Truth is, no. I mean people talk about making The Hobbit is an adventure, yeah, fine, that's my kind of adventure with Peter Jackson trying to cut my head.
Armitage: (laughing) You don't know if you're going to come back alive.
Freeman: (laughing) Yeah. No, well, I think most of us are Bagginses. I think most of the audience who see it all over the world are Bagginses. Because most people, although you know people might like bungee jumping or snowboarding or exploring, most people don't like to fight, thank god, because the world would be even more fucked up than it is now. But I think most of us do want to live in peace, most of us do want our family around us, most of us want a hearth, a sofa and a fire. I do.
Armitage: Am I a Baggins or a Took? Well, I'm a dwarf. As a person am I? Well, I don't have children so I think I'm about 60% Took, I like extreme change, and I don't think twice about it. I am fearful for my life, and I don't like conflict. But in terms of something radical which changes my life, I think I'm quite brave in that respect. It's interesting what Martin's just said about hearth and home because it's very much what these two characters are about; Bilbo stays with the quest because he recognises that dwarves don't have a home, and that he's going to be part of that reclamation. And that's one factor of the relationship.
Q: What was dwarf boot camp like? Was there a hobbit camp for handling swords?
Armitage: We arrived into a room with a movement director called Terry Notary, and for six weeks we learned how to walk differently, with weight, enormous boots that were heavy. He had a weight belt with a very heavy weight on it to pull our centre of gravity lower, we learned some secret sign language, and in all of those situations we had to learn how to walk, run, sprint, fight for six weeks.
Freeman: My experience of that boot camp was different to Richard's. We did a lot of the fitness stuff together. A lot of it was about not even what you were playing in the film but us as actors, it was a group of actors bonding. So we spent a lot of time doing forward rolls, little jumps, just generally getting -- and I think the stunt team were wanting to see what we were capable of and how far they could push us in the months and years to come. Because obviously a hobbit's walk and hobbit's physicality is very different from a dwarf's that was left more to me, it was down to me to figure out how to use Bilbo's physicality. I was doing the same fighting stuff, because even though Bilbo's not a warrior, the dwarves are warriors, the dwarves like fighting and they're good at fighting whereas Bilbo's not good at fighting. But we all had to do the same basic stuff of using sticks or swords or shields, you know, ducking out of the way. We all had to get familiar with stage fighting.
Q: The story deals with the notion of "true courage". Were there moments in filming where your true courage was tested?
Freeman: For me, the scene where I actually thought I may be in danger is going to be in the second film and I probably shouldn't talk much about it, but it involves and water and rocks. So that was a scene I genuinely did, every morning before filming, I did say a little prayer. You know, it's in your interest obviously to stay alive. And concentrate and focus, because there were moments all the way through, you know he got the occasional knock, all the way through filming, even the most seemingly nothing scene, one can end up with a broken nose. You have to really, really concentrate. There were lots of those kinds of scenes, but for me, the one where I thought, "Please look after me," is going to be in the second one.
Armitage: What Martin just said jogged a memory of mine. I think it's in the prologue, or it's in a flash back in the first film, when we're fighting at the Battle of Azanulbizar, and we'd done a rehearsal with orcs, and I was fighting 6 orcs. And we rehearsed on the ground. Of course because a dwarf is shorter, when you shoot, they raise the orcs onto platforms, so everything gets higher. I hit myself in the face with a shield, and I put my teeth through my lip. And Andy Serkis was director, because it was second unit, and he came and he looks at me, saying, "Are you all right?" I'm like "Uurgh mummph", and he said, "It looks really good." And so we carried on, because he showed me what it looked like, it was a lot of blood down my face and I thought it looked great. So we carried on. That was me beating myself up, no one else is to blame but me. But this is how it is.
(by Yuko Kato. See here for the full English text of "The Hobbit" press conference with Peter Jackson, Andy Serkis, Elijah Wood, Martin Freeman and Richard Armitage)